Practical Information
Organising a trek can be a lot of stress, especially in a foreign country where communicating with the locals can be a real challenge.
Trekking with Abner and Alcides takes away all that stress, as they know exactly what they are doing. They have trekked around Huayhuash countless times with many groups of varying age, health, abilities, desires etc. This page is to give you an idea of how certain practical elements can be arranged.
Indicative prices for 2014
The basic price for 2014 is 100 US$ per person per day. This includes : a walking guide, a cook, an arriero (mule leader), mules to carry equipment, an emergency horse, cooking tent + equipment, a big pachamanca at the end of the trek, and an overnight stay at the Chiquian house before and after the trek.
This price is indicative, and is based on a small group of two people. The price for larger groups is cheaper, depending on the size of the group, and can be negotiated directly with Abner.
The price does not include : food (bought with Abner in Huaraz and Chiquian), and transport to and from Huaraz and to the trek trailhead from Chiquian village. Approximative food & transport costs are provided in the categories below.
You should also expect to pay park fees (collected directly en route by the local Huayhuash community) of around 215 Soles per person ($80).
Transport
Lima-Huaraz
Before beginning the Huayhuash trek, most trekkers spend at least 4-5 acclimatising in the highland city of Huaraz (3,090m), set amid the spectacular peaks of the Cordillera Blanca 420km north-east of Lima. There are no commercial flights between Lima and Huaraz so the only means of transport is by bus
There are many daily and overnight bus services to Lima. The cost is US$10-15 depending on the company and service. The journey time is about 8 hours. Bus companies that operate this route are Cruz del Sur, Expreso Ancash and Movil Tours. We personally recommend Movil tours who offer a very comfortable service with great reclining seats!
Lima-Chiqiuan
For those who do not wish to pass via Huaraz before starting the trek, it is also possible to take a direct bus from Lima to Chiqiuan. If you are interested in this option, Abner & the family can provide extra information. Don't forget that you will need to spend a few days acclimatising in Chiqiuan before starting the trek though!
Huaraz-Chiquian-Llamac
There are buses twice daily from Huaraz to Chiquian. Hikers usually take the early bus, 6am with the El Rapido bus company. If Abner has come to meet you in Huaraz for food shopping (see below), then he will accompany you back to Chiquian by bus, and will even look after buying the tickets and watching over all your luggage, which is a real help as 'tourist' packs tend to disappear at the Huaraz bus terminal!
Chiqiuan-Llamac
The Huayhuash trek now starts in Llamac, and an early morning combi (minibus) leaves from Chiquian for the bumpy journey which takes around 3 hours. Abned will travel with you in the combi with all your packs, and on arrival at Llamac Alcides will meet you with the donkeys that he will have brought down from their Chakra (farm) in the hills. Again, for this combi ride, which leaves around 9am, Abner will look after everything.
Popca-Chiquian-Lima/Huaraz etc.
If you have followed the classic 10-12 day trek, your final day's trek will bring you down to the village of Popca, the next one along from Llamac, where the transport back to Chiquian is by the same combi as the one to Llamac, in reverse.
Once back in Chiquian, there are daily bus services linking back to Huaraz, Lima, and other main cities
The combined cost of transport Huaraz-Chiquian-Pocpa and return is around 40 Soles ($15) per person in 2010.
Accomodation
Abner and Alcides have a traditional house is Chiquian where they are delighted to welcome trekkers to stay overnight before and/or after the trek. This is an amazing experience that you definitely won't get in an expensive package deal, and we absolutely adored it! Definitely an offer not to miss. You can also leave any stuff there which you may not need during the trek if you wish.
B&B with a difference!



Food
In Chiquian you can buy pretty much all the provisions you need for the trek. However, Huaraz has much more choice and more reasonable prices, and so Abner is quite happy to meet you in Huaraz to do your food shopping with you. This is really a huge help as he knows exactly what and how much to buy, and shopping with a local defintely gets you more respect and better bargains!
5* cuisine

If you're expecting to eat tinned meat and packet soup for the duration of your trek then you can think again! Alcides is a fantastic cook, he really takes his time and enjoys preparing meals using fresh ingredients. The results are delicious, and the 'menu' varies every day. And that's even without mentioning the freshly made pancakes for breakfast and the grilled trout fresh from the lakes served with the local potatoes...

In 2010, the cost of food is approximately 450 Soles for a group of 4 people on a 10-day trek ($40 per person). On addition to that, the cooking gas costs around 35 Soles ($12).
The "pachamanca" treat for the trekkers



Donkeys
One thing that we really did appreciate with the Valdez brothers was their sincere respect for their donkeys. You will see large agency groups out trekking with very few, extremely overladen donkeys which can barely stand up (and often do fall over through exhaustion). Anber and Alcides don't do this - they not only provide enough donkeys to sufficently spread out the packs, but they also bring along a couple of horses (depending on the size of the group) as a security element in case any of the trekkers feel that they can't or don't want to walk at any point, through illness or laziness or curiosity...! I certainly took advantage of the trusty Dutchman a few times, and apparently his replacement Tipi is legendary!!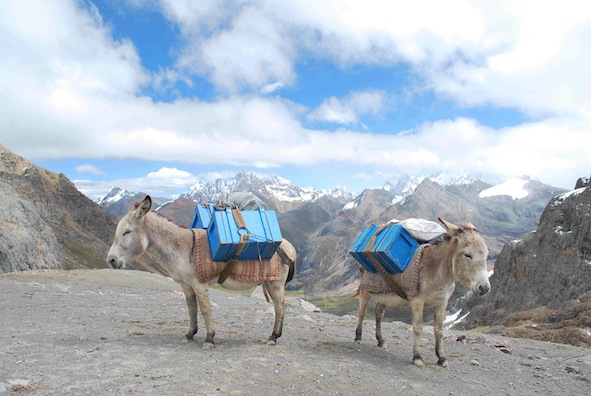 Happy donkeys!



Travelling in style



Equipment
Depending on your needs, Abner and Alcides can provide various equipment so that you don't have to take along your own stuff. We used our own tent (which the donkeys obviously carried), but others have borrowed them, and the Valdez brothers have their own large cooking/'dining' tent for the cold nights!
Tent at night...